October 1st, 2015. Tellus Think Tank is happy to meet Sachiko Ishihara, recent graduate and now Course Coordinator, at CEMUS in Uppsala University. I have already checked out the CEMUS website where they proclaim wanting to save the world! This makes me very curious!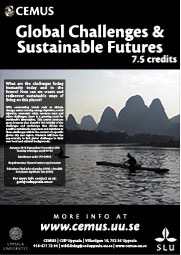 I meet Sachiko Ishihara an October day in the CEMUS-library of Uppsala, just north of the capital of Stockholm. It is perfectly beautiful, but unnaturally warm for Sweden at this time of year. Tellus Think Tank is bustling with questions.
ABOUT TELLUS THINK TANK….read more here
I learn that CEMUS stands for "Centre for Environmental- and Development Studies"  and that Sachiko Ishihara grew up in Tokyo, Japan. She is one of four siblings, has lived in Sweden for two years and is currently employed by CEMUS to coordinate the course "Global Challenges and Sustainable Futures".
What is CEMUS and what is its educational scope?
Sachiko Ishihara describes the educational scope of CEMUS to cover almost anything that has to do with sustainability.
The center interdisciplinary courses in the sustainability area, broadly covering development in society with courses like the more theoretical "The Global Economy" and like the more hands on "Urban Agriculture". 

The center also organises practical courses such as "Project Management", with an initial theoretical base and then letting the students plan, run and assess their own sustainability projects. Sachiko Ishihara tells me about a couple of the student projects:
Race for the Planet Board game – the project is creating a board game where the players need to collaborate, instead of compete, in order to increase sustainability.

No-Waste Cooking classes.

The Latvia and Sweden re-use project.

The Culture Carnival – now an annual May happening in Uppsala and open to the public.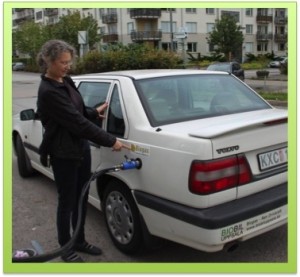 At this point the acting Program Director of CEMUS, Daniel Mossberg, enters the room to say hello! He adds another inspiring student project to the list and tells us that one student project rebuilt an old Volvo car to run on gas instead of petrol!
Sachiko Ishihara didn't take the specific Project Management course, however she did start her own world improvement project with two fellow students.
In all modesty, Sachiko Ishihara tells me they called it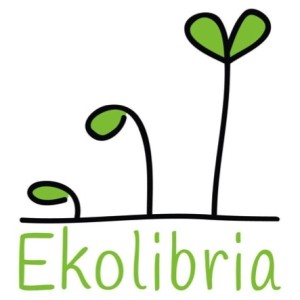 'Ekolibria' and they organise visits to schools to educate children of all ages about sustainability. Talk about walking the talk!  
The center of CEMUS was founded in a special way?
Sachiko Ishihara happily exclaims:
–Yes it was! Two students, Niclas Hällström and Magnus Tuvendal, founded CEMUS over 20 years ago!
The two students were given the opportunity to discuss the lack of interdisciplinary educational possibilities with the president of Uppsala University with the result that the University asked them to organise an interdisciplinary course on the subject "Humanity and Nature". The fellow student interest was so large that 400 students signed up for the course. 
Since then CEMUS has developed into a university center at the University of Uppsala, annually offering 20 interdisciplinary sustainability courses. Sachiko Ishihara tells me that 50 % of these are held in English and that CEMUS attracts about 50% of its students from countries other than Sweden.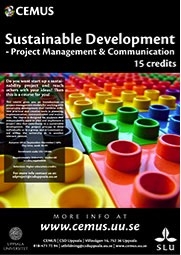 What makes CEMUS unique as a pedagogical institute of Sustainability?
Sachiko Ishihara proudly tells me that CEMUS-courses are not coordinated and put together by professors, but by students or recent graduates that are employed in the role as Course coordinators.
The Course Coordinators have the official university title "Amanuensis" which normally is a student that is also employed to do administrative work for the university. However, at CEMUS, employed students are given far more responsibility.
What are the Course Coordinators responsible for?
Sachiko Ishihara gives me a picture of an important role where the course coordinators:
Develop the courses.

Choose the course contents.
Run the courses.
Make sure that the red thread of the subjects and contents are held.
The course coordinator gathers a knowledgable work group of specialists, such as professors and research students, for feedback on the content of their course. When the course content is ready the course coordinators organise the course by inviting speakers, facilitating student discussions, projects and assignments. Depending on the individual, some even hold educational sessions for fellow students.  
What does CEMUS mean by interdisciplinary?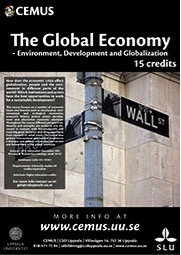 A discipline is another word for subject, according to Wikipedia (2015-10-02). An interdisciplinary course at CEMUS means creating an insight, by crossing subject boundaries.
Sachiko Ishihara says that the CEMUS interdisciplinary courses help students to understand the dynamics and processes of the world, how they are created and have influenced present settings. Subjects that might be combined in their inter-disciplinary courses span widely from for instance Environmental Science, Democracy, Ethics, Business, Biology. 
The CEMUS course coordinators invite speakers from many different areas, not just professors but also non-academics, business people, entrepreneurs, engineers, activists and representatives from non-profit organisations, to mention a few. All with the purpose of helping their students understand how the development of our world works.
Sachiko Ishihara mentions speakers like the writer and singer Alan AtKisson and the Swedish politician, Gudrun Schyman.  I also read on CEMUS homepage about open lectures with activist Polly Higgins and US Professor in Systems Management, Dennis Meadows.
What kind of people seek educational possibilities at CEMUS?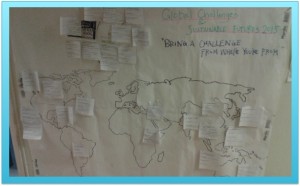 We take a walk through the building and find an early assignment on sustainability issues where students identify problems in their hometown. I can see Colombia, The US, North Korea, Japan, Australia and Sweden on the board, to mention some.  
Students come from different majors and academic disciplines, for instance, Engineering, Art, History or Business and have a strong interest in improving the world and learning more about sustainability. Sachiko Ishihara, also concludes, that some students are totally new to sustainability and are curious to learn more!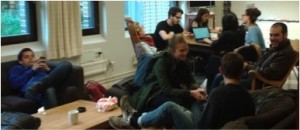 What does sustainability mean for the people at CEMUS?
Sachiko Ishihara looks slightly troubled by this question at first, and frowns in thought before explaining:
-The people that meet at CEMUS have a diversity of views, she says. Rather than one common approach the people of CEMUS range on a wide spectra from radical- to mainstream thoughts, just like the general public.
Sachiko Ishihara concludes that there is a common basic understanding among all students and staff of CEMUS and that is: Life on earth needs to change to be more sustainable.
What is the overall message that CEMUS is sending to students and society?
Sachiko Ishihara explains what makes CEMUS such an interesting institute in a university setting:
-Society needs to change and CEMUS holds criticism towards inequality, waste, non-sustainable use of the resources of earth. There is also a unique belief in young people and the questioning of normative values and traditional experts.
How can students and society notice the core beliefs of CEMUS?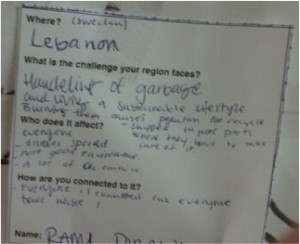 According to Sachiko Ishihara, the first thing you would notice is that CEMUS, by putting students in course coordinator roles and other responsible positions, breaks the norm of the academic hierarchy.
-Secondly, you would see the active and structured encouragement of students to discuss and question normative beliefs.
-Thirdly, CEMUS is all about activating people and doing things differently to improve results, Sachiko Ishihara continues.
I also learn that the active student pedagogy encourages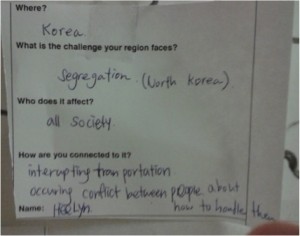 students to work in diverse and internationally mixed groups. The mixed groups give different perspectives on issues and enhance student motivation and understanding.
When debating and exploring contradictions in the needs of the world, students easier understand why trade-offs are made.
For example, students from the so-called "developed" countries may argue that Earth doesn't need any more growth, and call for "de-growth". Students from the so-called "less-developed" countries might, in their turn, question this statement.
-CEMUS does not run a one-way education, Sachiko Ishihara concludes.
How is CEMUS helping to save the world?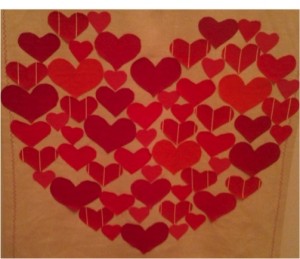 Sachiko Ishihara is firm when stating:
-CEMUS education will make a difference, by activating individuals with an educational process that plants seeds by education, training of critical thinking, diversity and training in proposing solutions.
Sachiko Ishihara and I are back in the CEMUS-library and thank each other for an interesting meeting. I can conclude that her creativity, courtesy and knowledge have been really inspiring!
NEXT: Tellus Think Tank find is it good to see that at least Swedish Universities are taking Sustainability seriously. We are curious as to what other countries are doing so we book a meeting with the University of Newcastle. However, next week we will be visiting the first Eco Village of Sweden to learn from their learning!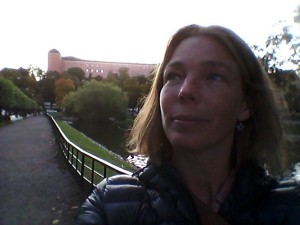 NEWSLETTER: If you have signed up for our weekly newsletter we will send you a note when the article is available!
IDEAS: Do you feel inspired, or curious? Is there anything you would like the Tellus Think Tank team to cover or investigate? Let us know!