Thank you for contributing to the Tellus Think Tank quest of sharing ideas to inspire others!
We gathered 22 voices on Doing It Yourself – Saving Earth.
Can we continue living in this way?
In the beginning of the Industrial Revolution, about 1815, Earth was inhabited by one billion people.
Two hundred years later, there is currently seven billion people on Earth, a number still increasing.
Humanity is using more and more of Earths resources in not altogether constructive ways.
The current human way of life is causing problems such as "Global Warming" but also decreasing the diversity on our planet. Many animal- and plant species are already extinct and many more are on the road towards the same unfortunate future.
Read more about causes of Global Warming in the Tellus Think Tank article: Is Earth doing alright?
In December 2015, at the COP21 UN climate conference in Paris, an international environmental agreement was reached. It shows that our politicians are working on finding environmental solutions. However, they are often also part of the vast amount of environment problems we need to tackle:
Green house gas emissions are still increasing:

Peak hour traffic Photo: AnnVixen

-The amount of fossil fuelled transports causing massive carbon dioxide emissions.
-The growing market for beef and lamm meat are causing massive methan emissions.

The lacking of clean, natural land and nature, that give people, animals and plants the possibility to thrive and grow.
The pollution of our lands and oceans because of waste and toxic contamination.
The Depleting of agricultural land, allowing the use of pesticides and artificial fertilizers.
The list goes on…

22 voices
What if it's up to You and me? Not everybody can do everything, but together we believe we can save our planet!

Join in – Save Earth by sharing ideas!
1) What you are doing to save the planet
2) your name
3) your age
4) your country of residence
5) picture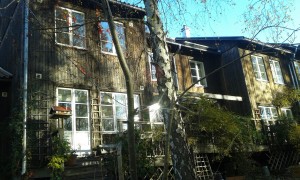 Read about one of Swedens first eco villages, Understenshöjden! Built by people that actively have chosen to live in a more sustainable way!
Let us notify you when Tellus Think Tanks next weeks article is available!
READ MORE ABOUT TELLUS THINK TANK